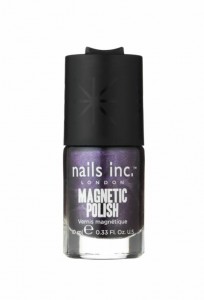 I ordered this through the nails inc website, my first thoughts being it was abit of a gimmick nail polish like so many others that are around at the moment.
First job was a good base coat and then to try out the magnetic polish. The instructions are not that clear, not to me anyway, and the first one I mess up. After the first mishap its plain sailing.
It is so easy to create a great effect, literally paint, hover over the top with the magnetic part built into the lid of the polish and you have a brilliant effect.
Love the effect it creates, easy to apply and lasted well. This is a polish I recommend if you are looking for something different.
There are many nail treatments around at the moment and we have experience of a few so drop into our beauty salon for any advice. Take a look at more of our articles at our blog.